A cylindrical die is used in rotary die cutting, a specialized form of die cutting, to create shapes from materials. It revolves continuously and features blades that carve off the required shape all the way around the cylinder. Because it rotates while cutting out numerous identical forms, this is highly effective. Read More…
What is Rotary Die Cutting?
All that needs to be done is to flip a switch and place a sizable sheet of material underneath the rotor. This is perfect for use in fields like engineering where it's critical that plastic and metal sheets have the exact same dimensions for a piece of machinery to function.
Additionally, it is necessary for printing bandages, creating adhesive sheets that fit on identical-sized objects, and even producing military equipment in the exact specifications that the military requires.
Rotary Die Cutting Process
Using a rotary press, the material is unrolled and fed through two rollers to begin the rotary die cutting procedure. The hard cylindrical anvil is one of the rollers, and the other is a cylindrical die, also known as a rotating die.
After being engraved, sharpened, and heat treated, the angled blades are machined into the die. A solid engraved die or an adjustable die may be utilized in this procedure. A solid engraved die is frequently machined from a solid steel bar, giving tighter tolerances. An adjustable die's blades are easily replaceable if wear or the need to cut a new material arises.
Blades are employed to drive the material against the anvil's surface, regardless of the type of die being used. Many webs can be processed and merged by the rotary die cutting machine in a single pass because materials are frequently chopped into webs.
Materials may be conveyed through the machine by a release liner, rolled onto a new core, or sheeted into pads. Metal-to-metal die cutting or kiss cutting, also known as butt-cutting, are the two different ways to cut through the materials and their release liner.
Cutting completely through the material and its release liner is required for metal-to-metal die cutting. When kiss cutting, the material is just cut through to the releasing lining. The same piece of equipment may carry out several cuts and laminations thanks to rotary die cutting's capacity to input and register material at fast speeds.
More complex components can be added during the stacking process, such as island placement—placing an item inside a web—in-line packing and adding peel tabs.
Applications of Rotary Die Cutting
Medical tools and wound care
Numerous issues in the medical industry can be resolved by rotary die cutting for adhesive. One of the most popular tools in the medical field is medical adhesive tape since it can be used to address a wide variety of problems, many of which are very common.
In addition to being pressure-sensitive, these adhesive tapes are breathable, making them gentle on the user's skin. According to this, any additional solvent or heat solution is not needed. Furthermore, various materials, including waterproof adhesive and robust cloth tape, can be cut by rotary die-cutting machines into adhesive medical tape.
These tapes benefit from a die cut because it guarantees that every component is the right size and shape to stick directly to a patient's skin, healing the wound with the least discomfort possible.
When sticky tape clings too firmly to the skin, preventing it from breathing, this is a typical issue in the medical industry. This problem can be resolved by using a rotary die cut to create the ideal materials because the medical tape that comes off the machine is made of any breathable material you choose.
Thermal masking
Cold weather causes a range of issues in numerous businesses. When temperatures drop, machinery in factories or work zones stops operating. Not only that, but inadequate insulation can make working conditions for workers uncomfortable or even dangerous. The correct adhesive can adhere thermal masking tape to virtually any surface, providing insulation.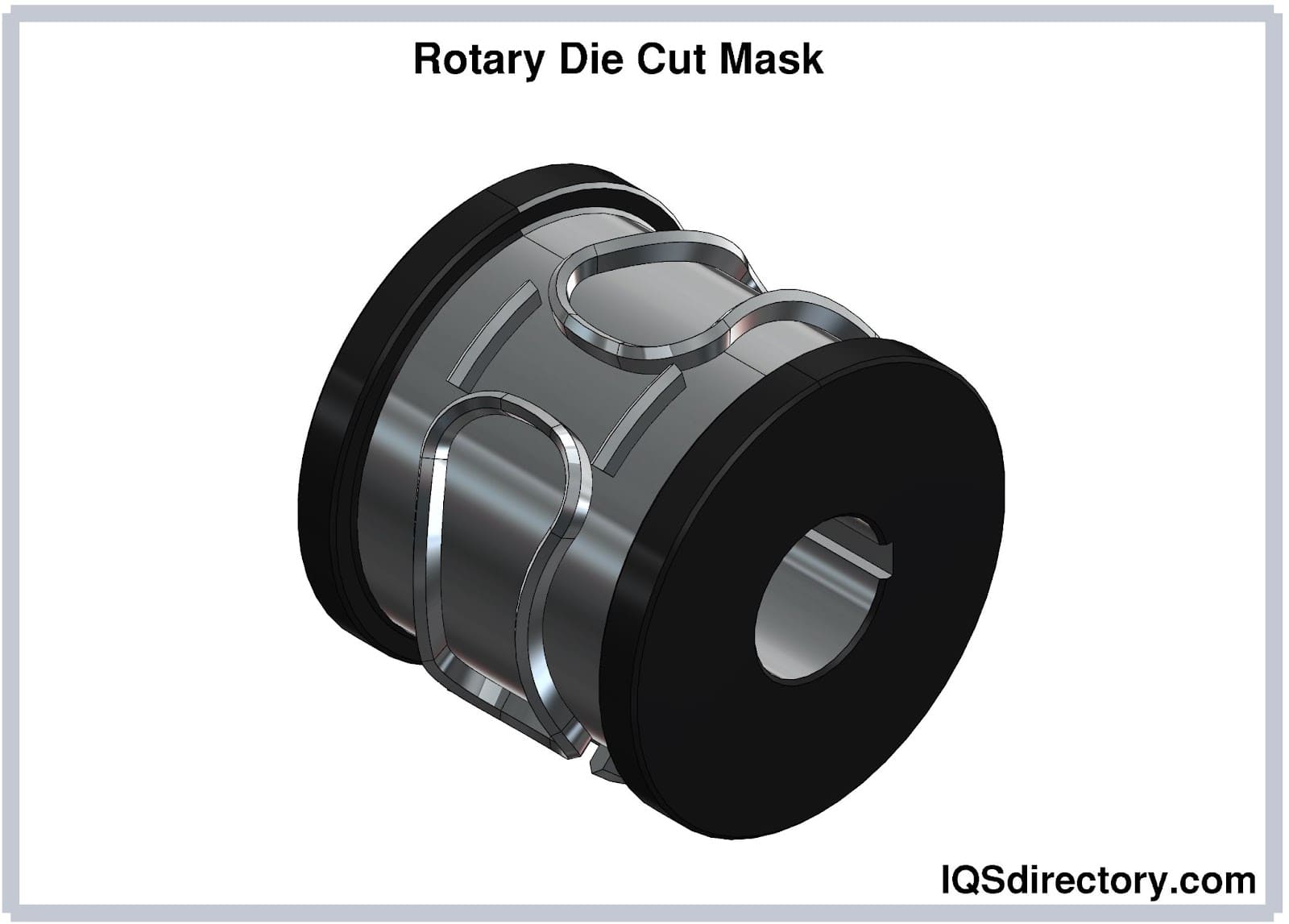 Military use
Soldiers can stay warm by using adhesive thermal tape on their boots, helmets, and other military gear. To prevent their surfaces from being scratched in the line of fire, thermal tape can also coat weapons like tanks and assault rifles. Additionally, these adhesives can increase the equipment's resistance to severe weather.
Choosing the Right Rotary Die Cutting Company
To ensure the most positive outcome when selecting a rotary die cutting business, it is important to compare several companies using our directory of rotary die cutting businesses. Each rotary die cutting company has a business profile page highlighting their areas of experience and capabilities, along with a contact form to directly communicate with the company for more information or request a quote. Review each rotary die cutting business website using our patented website previewer for an understanding of what each company specializes in. Then, use our simple RFQ form to contact multiple rotary die cutting businesses with the same form.
Rotary Die Cutting Informational Video