Manufacturing processes like kiss cutting are frequently employed to create stickers, felt pads, and hanging hooks. A finished piece is left sliced but placed on a sheet of paper or foil that can be removed. It is a technique for slicing into a material where the front layer is left unharmed, and only the top layers are penetrated. Read More…
The term "kiss" describes how the blade contacts the top layers of the material and creates a pattern or cut with enough force to leave an impression but without really cutting through the material's backside. The label or sticker can then be put on a package, envelope, or another surface after being cut using kiss-cutting machines to create a crack-and-peel surface, enabling easy liner removal.
Types of Kiss-Cutting Machines
Rotary Die Cutting
When a cylindrical die is mounted on a rotary press, rotary die cutting is comparable to rotary printing. The material web is fed into the press, including an anvil and a cylindrical die. The cutting section of the die presses against the web and anvil as the material is passed through to puncture the material and imprint the design.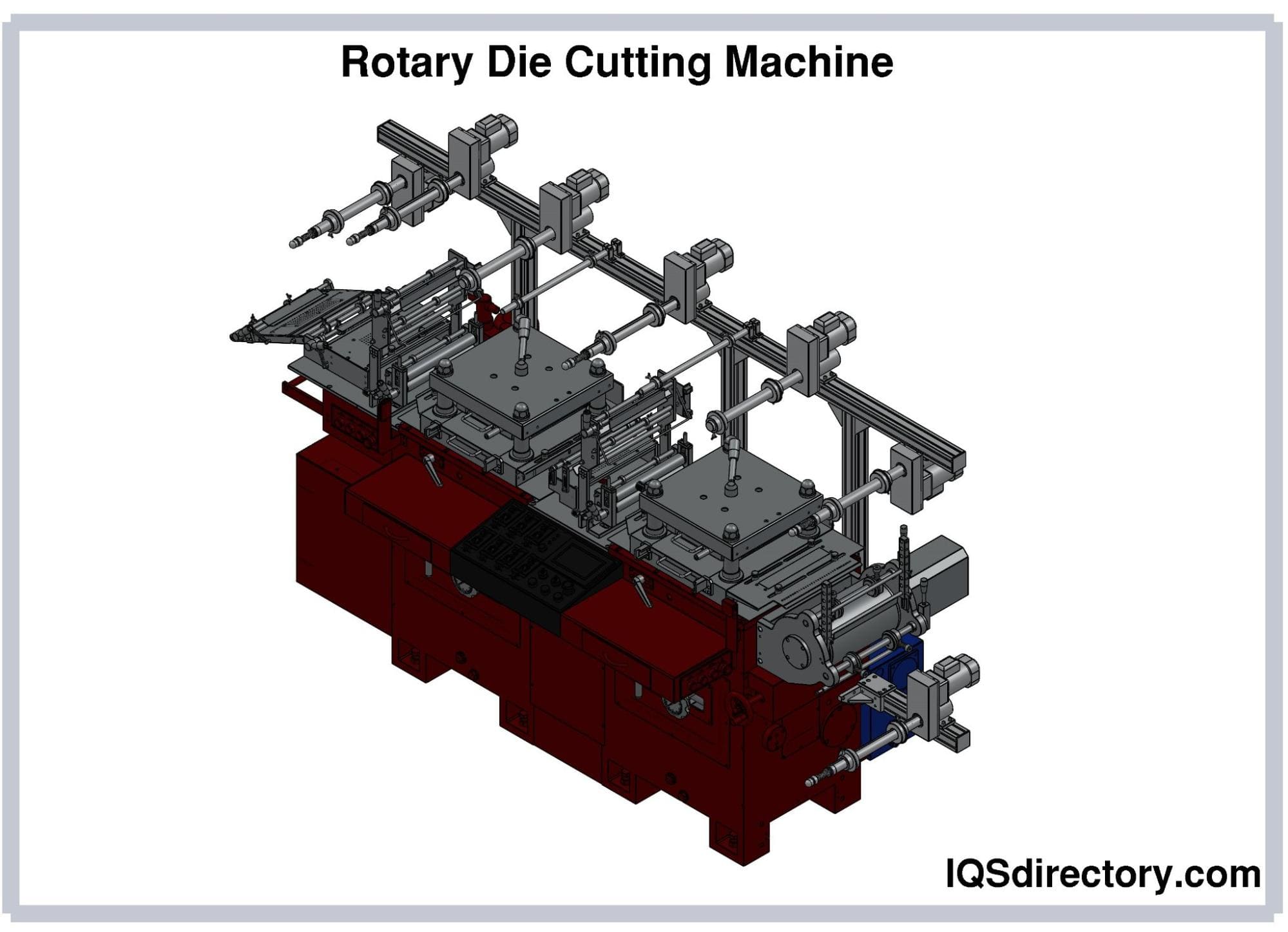 Flatbed Cutting
The steel rule, which consists of several razor-sharp metal strips bent into the desired shape, is the primary component of the flatbed cutting process. The steel rule is based on mechanical, hydraulic, or electric presses. A feeder, in-feed module, cutting station, and steel rule die assembly are all included with the press. The flatbed die press's feeder pulls material from the feed tray into the machine. The steel rule die is fastened to an upper plate in the cutting station. The cutting plate is supported by a lower counter plate that resembles an anvil. The cutting plate progressively descends once the material is in place and makes contact with it to create the kiss-cutting impression.
Thermal Die Cutting
Thermal die cutting is one of the more recent advancements in die cutting; this method can only be used on materials that can be shaped by thermal displacement. The thermal die-cutting process employs controlled heat to vaporize tiny bits of material to produce the desired form. Thermal die-cutting uses focused heat to create shapes and patterns, yet it doesn't distort or harm other parts of the material.
Plotter Kiss-Cutting Machine
A plotter kiss-cutting machine is an automatic feeding-cutting system that loads and cuts workpieces. It can be fed a paper roll or cut into various sheet sizes, including tabloid. The plotter may receive designs to be cut from a computer or a thumb drive. The programming interface of the machine makes it simple to adjust the cut's depth and form.
CNC Routing
A cutting tool that is controlled by computer programming is called a computer numerical control (CNC) router. A router can make many types of cuts and is used to cut and shape various materials. Vertical, horizontal, and perpendicular coordinates translate CAD-created designs into G code instructions for the CAM. The Z axis of a CNC router can be modified to function as a large format kiss-cutting machine by adding a kiss-cutting knife cartridge. The kiss-cutting knife can be inserted into the current spindle and tangential knife instruments using an adaptor.
Uses of Kiss Cutting
Gaskets
Numerous materials, including rubber, vinyl, nitrile, and flexible graphite, are used to create kiss-cut gaskets. The material that needs to be cut is glued to a material with a pressure-sensitive adhesive backing before the gasket shape is cut. Then, assembly workers are given rolls of gaskets for simple application and removal. The simplicity with which self-adhering gaskets can be put into the assembly and removed from the roll during manufacturing improves production, boosts efficiency, and cuts down on time.
Adhesive Tape
Kiss cutting is a technique for producing adhesive tape solutions in various forms, dimensions, and arrangements. Various lengths of adhesive tape are fed into a kiss-cutting machine. On sheets or rolls, a die cuts the required shape. It is simple to remove the design off the rolls and apply it to any surface, thanks to the pre-cut designs. For applications where quick and easy access to sticky stickers is required, such as automobile emblems, pricing labels, optical pads, and abrasive materials, adhesive tape shapes are employed.
Materials Used with Kiss Cutting
Stickers
The type of kiss cutting that most people are accustomed to is the kiss cutting of stickers. Kiss cutting creates address labels, stamps, toy stickers, product labels, and annual license plate stickers. In each case, stickers start as a sheet of material (vinyl, paper, plastic, or some other fabric) with an adhesive backing that is printed and may be kiss-cut.
Butyl Rubber
Since butyl rubber is less porous than other rubber compounds and keeps its flexibility at below-freezing temperatures, it is a commonly used material for gaskets. In addition, butyl gaskets provide excellent shock absorption qualities, are tear resistant, and are perfect for applications involving gasses or compressed air.
Selecting the Correct Kiss Cutting Company
To ensure you have the most positive outcome when selecting a kiss cutting business, it is important to compare several companies using our directory of kiss cutting businesses. Each kiss cutting company has a business profile page highlighting their areas of experience and capabilities, along with a contact form to directly communicate with the company for more information or request a quote. Review each kiss cutting business website using our patented website previewer for a better idea of what each kiss cutting company specializes in. Then, use our simple RFQ form to contact multiple kiss cutting businesses with the same form.