When die-cutting plastic, the finished shaped components are cut from flat plastic sheets using a bespoke die made in the desired shape. Die cutting is typically less expensive and faster than other ways to cut plastic. Read More…
What is Plastic Die Cutting?
Plastic die cutting is when a flat plastic sheet is pushed against a die-formed cutting edge to create a plastic piece that resembles the shape of the die with which it was cut. Although plastic shapes can also be cut with lasers or other specialized equipment and still be considered die-cut parts, a die in the context of plastic die cutting can be a particularly formed metal blade or group of blades.
All kinds of forms can be created using die cutting and various plastic materials. For example, die cutters can be used to create custom handles for thin plastic bags. Thin hard plastic sheets can be die-cut into a variety of forms. Die cutting is a simple process that can create miniature electronics faceplates and keyboard covers.
Also, die cutting is frequently used to produce keycards, employee name tags, and other small plastic cards. Plastic bags make up the majority of die-cut plastic products, despite the fact that a wide variety of plastic materials are candidates for the die-cut process.
Die Cutting Process
The die-cutting procedure comprises picking the material and the appropriate equipment for the job, depending on the equipment utilized. A die may be required for techniques that don't employ lasers or rotary tools for cutting. Steel rule, rotary, and laser are the three principal die-cutting techniques. Every procedure has benefits and drawbacks, and not every job will benefit from using the same die-cutting technique.
Die-cutting techniques include:
Metal rule
The process of cutting steel rules, also known as flatbed cutting, begins with creating a special die. This manufacturing technique is perfect for high-volume projects that significantly rely on a precise shape because the die needs to be made first. Next, a turning instrument called a rotary die is used to cut or perforate a sheet of material.
Laser die
The final type of die cutting, also known as digital cutting, produces the forms digitally rather than using existing tools or dies. This method of cutting creates pieces with high tolerances because a laser can cut more accurately than a conventional tool.
Advantages of Plastic Die Cutting
Die cutting is a cost-effective manufacturing solution, especially when produced in large quantities. Costs for increasing the order size change depending on the material used once manufacturers produce the necessary die.
Customizability: Die cutting is not only inexpensive but also enables customized cuts. Any required shape can be produced using laser and steel rule die cutting.
Flexibility: This method can cut various materials, including metals and wood. Die cutting is a versatile manufacturing method since it may be used for many tasks.
Disadvantages of Plastic Die Cutting
Using a die cutter incorrectly could cause the material to be scored rather than cut through. This problem might be resolved by trying to run the project through the machine one more time. The second cut, however, might not line up with the first if the material moved between the first and second passes, leading to a cutout that is not round.
The rotary cutters and steel rule dies are both extremely sharp. Physical harm could come from improperly handling them.
Applications of Plastic Die Cutting
Applications requiring fluid resistance and heat sealing can use plastic die cutting. Plastic die cutting has advantages over conventional cutting techniques. High-speed, extremely accurate, and dependable plastic die-cutting machines are available.
When choosing a plastic die-cutting machine, it's important to consider its throat, stroke, operating force, open height, maximum sheet width, and maximum sheet length. Numerous thermoplastic materials, such as polyethylene, polycarbonate, polypropylene, styrene, PVC, PETG, Teflon, and polyurethane, can be cut using plastic dies.
Acrylics and other less robust plastic materials may not cut well even if they can be die cut. Die cutting is not limited to processing plastic. Die cutters can work with many materials, including wood, rubber, fabrics, and metal.
Companies that provide plastic die-cutting services occasionally also provide die-cutting of other materials. Every die-cutting operation is unique; some smaller operations only provide custom die-cutting in modest volumes, while larger companies typically provide stock die-cut products in substantial quantities.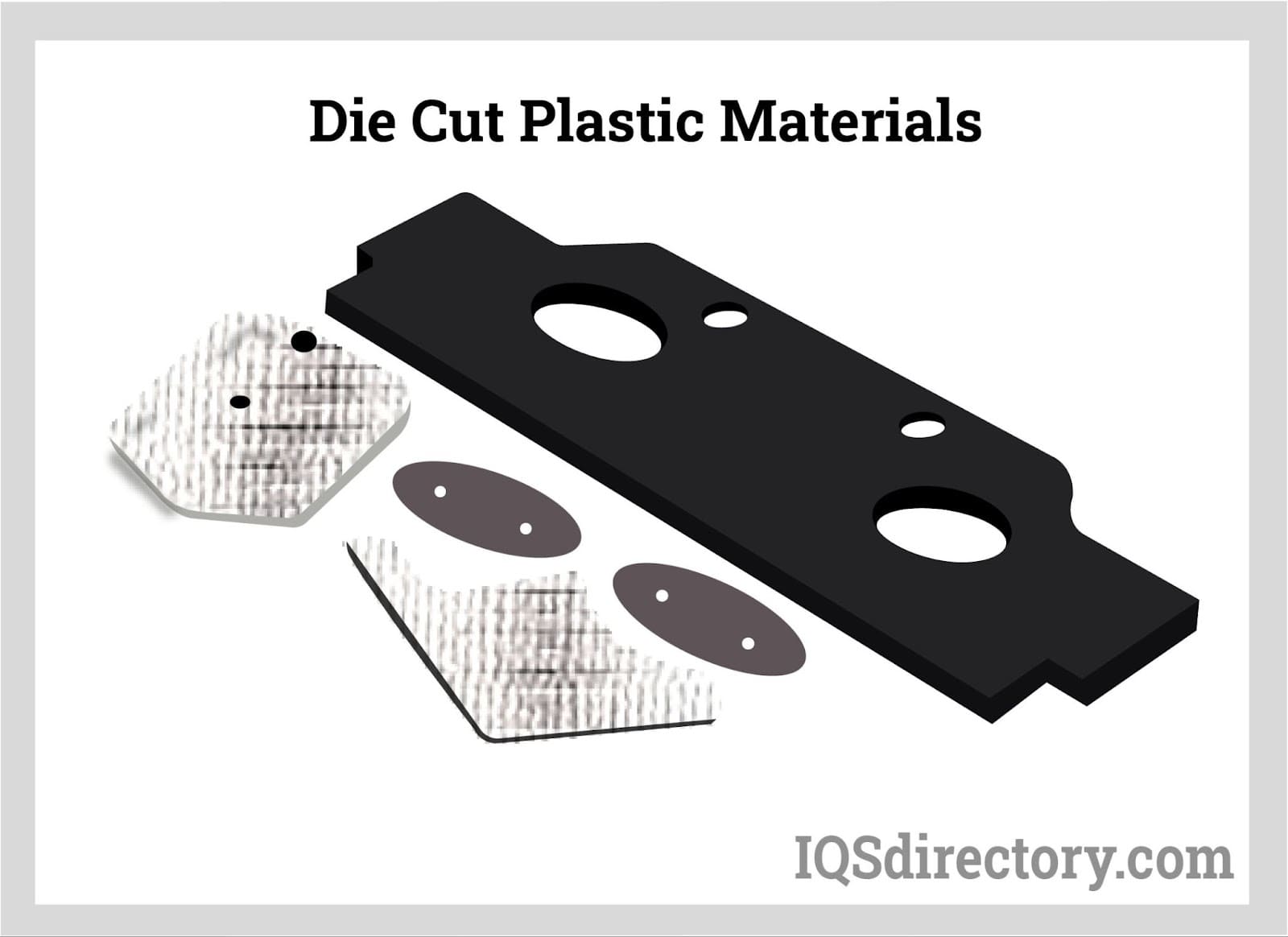 Choosing the Proper Plastic Die Cutting Company
To ensure you have the most constructive outcome when selecting a plastic die cutting company, it is important to compare several businesses using our directory of plastic die cutting companies. Each plastic die cutting company has a business profile page highlighting their areas of experience and capabilities, along with a contact form to directly communicate with the company for more information or request a quote. Review each plastic die cutting business website using our patented website previewer to get an idea of what each business specializes in. Then, use our simple RFQ form to contact multiple companies with the same form.
Plastic Die Cutting Informational Video